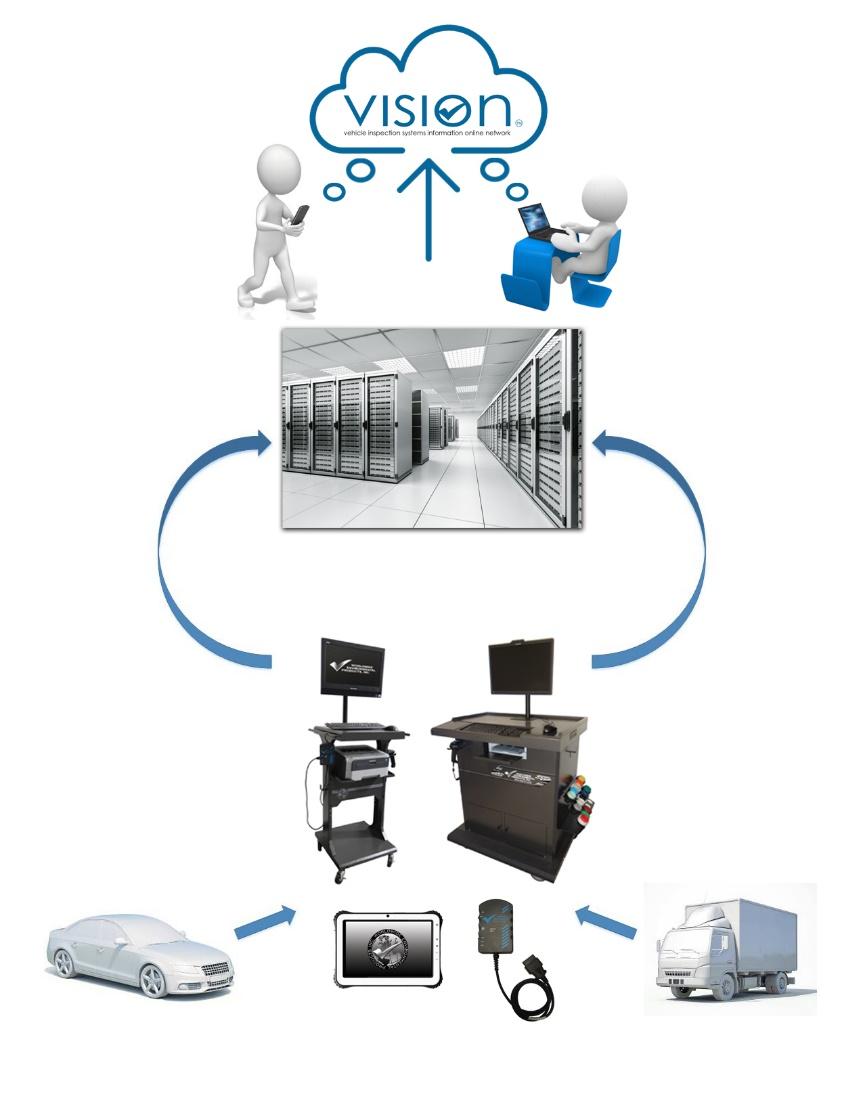 Worldwide's Vehicle Inspection Systems Information Online Network, or VISION™, is a state-of-the-art program and data management solution, which includes the most dynamic and customizable applications in the vehicle inspection industry.
Far more dynamic than traditional vehicle inspection database management solutions, VISION™ offers flexible and reliable high throughput storage, retrieval and management of all vehicle safety and emissions program data. 
Worldwide models its solutions and methods after the IT industry due to the more progressive nature of IT and the fact that vehicle I/M is increasingly reliant on IT systems.  The challenges facing programs today require IT solutions, because the challenges are IT-driven.  The goals of VISION™ are clear:
To provide greater control to program administrators

To provide greater security mechanisms to identify and prevent fraud

To define and automate system processes to facilitate integration and mitigate downtime
These goals are achieved by standardizing program processes and unifying disparate operations under one-user friendly application – VISION™.
VISION™ Flexible Feature
The system's dynamic and flexible design provides the participants of an inspection program with a user friendly and secure method of obtaining important program data.  Each and every program has its own requirements and specifications, which is why Worldwide doesn't just provide an off-the-shelf, canned solution to its clients.  
Each VISION™ is developed and customized to fit the specific needs of each important program.  
Worldwide's ability to adapt to different program requirements and work with government agencies as a partner provides its programs with the resources they need and the solutions they require.
Program Data Collection and Management
VISION™ is a high-level, advanced resource management solution that integrates each component of a vehicle inspection program into one, secure web-based software application that automates and controls data storage logic, data analysis processes, system-wide access rules, user capabilities, user activity, and server system functions.
Highlights of VISION™ include the following:
Management of Test Stations or Inspection Centers

Management of Inspectors, Technicians and Program Personnel

Management of Test Lane Equipment

User Authentication Profile/Role Data

Messaging Services to Users and Test Stations or Inspection Centers

Inspection Record and Official Vehicle Inspection Report Storage and Retrieval

Appointment Scheduling System

System Interface with Testing Software

Interface with Domain Active Directories

Compliance with Industry standards and NICS Security Policies

Real-Time Data Mining for all Program Data

Video Recording and Live Video Monitoring

Real-time Auditing and Video Interruption/Auditing

Enhanced Data Triggers and Automated Notification

Adherence to Data Protection and GDPR Legislation

Auditing and Enforcement Interface
Evolving IT Infrastructure and Interfaces
Worldwide continues to evolve its systems to meet new IT opportunities and challenges. The Alaska data management system was a precursor to a cloud-computing system that would ultimately standardize and modularize the Worldwide data-hosting solution. 
By creating inspection program networks that were designed on virtual intranet architectures; Worldwide was able to unleash the potential of its dynamic, program management applications. 
Three (3) key milestones in the evolution of Worldwide's solutions have been managed by the principles of Enterprise Resource Planning (ERP), including:
Worldwide Web-Portal

: a virtualized database solution that consolidates total program data and delivers powerful administration and reporting tools that enables program administrators to set program parameters and conduct both high-level and granular analysis on every aspect of a program;

Worldwide SaaS Server

: a virtualized database solution that consolidates programming efforts onto a central, information-sharing platform; empowering Worldwide's software teams to better identify opportunities for optimization, standardize programming languages and protocols, and provide a solution that can be immediately implemented on multiple platforms;

Worldwide-UBI

: a virtualized database solution that consolidates all categories of operations management onto a single platform, hosted on a single database, and managed by customized software that allows all other users in the enterprise to understand project and/or item progress, and make informed project plans and schedules based on real-time information.
Administrative Capabilities
Worldwide's operating system and design strategy maximizes administrative capabilities, automated management and security control across the Database architecture; delivering a virtualized data environment built for speed, security and reliability.
For the Database system, Worldwide ensures VISION overcomes any potential challenges typically associated with older database systems, including: 
Multiple and varied data sources

Inconsistent access to business data

Varied understanding of business data

Multiple versions of business applications

Inefficient business processes

Geographically diverse teams

IT-related downtime and delay

Limited resources

Limited budget
Worldwide's database platform meets each of these challenges by offering these key resolutions:
Consolidate data sources

by making data more accessible and actionable with reporting, scorecard, and dashboard solutions that are scalable and can be imported and manipulated from external resources using familiar Microsoft Offices interfaces;

Keep everyone on the same page

by making sophisticated data analysis easier for everyone at the State through simple data visualization tools;

Make data more accessible

by delivering Government-ready security and compliance with built-in data encryption;

Avoid high capital, training & management costs

by easily incorporating data into existing applications and workflows based on familiar Microsoft and other tools.
Reporting
Worldwide maintains a Data Warehouse which serves as the repository for inspection data used to support program querying and reporting requirements. This data in an aggregate and summarized form is specifically structured for querying, data analysis and reporting, and can be analyzed using SQL Analysis Services to build Analysis Service cubes, ad hoc queries, and SQL Reporting Services.
In developing Self-Monitoring Analysis and Reporting Technology (SMART) for Vehicle Inspection Programs, Worldwide has created a turnkey reporting solution that increased transparency while providing leading edge fraud detection and reporting services, which further improves Worldwide and government oversight and security efforts in I/M programs.
Worldwide's system can be used to prepare and deliver a variety of interactive and printed reports, and is administered via web interface. Users can interact with the Report Server web service directly, or use Report Manager, a web-based application that interfaces with the Report Server web service. 
With Report Manager, users can view, subscribe to, and manage reports as well as manage and maintain data sources and security settings. Reports can be delivered via e-mail or placed on the file system. Security is role-based and can be assigned to an individual item, such as a report or data source, a folder of items, or site wide. Security roles and rights are inherited and can be overloaded.
VISION™ provides government agencies with all reports required by the USEPA pursuant to 40 CFR 51 to fulfill the State Implementation Plan (SIP) reporting requirements.  VISION™ also has a query function built into the system that allows administrators to build custom reports. VISION™ reporting system has the ability to run queries quickly and efficiently using a data warehouse and without interfering with the database's performance. 
Worldwide provides the necessary interfaces and software to integrate with government computer systems, and also displays customizable information about the status of the respective program.  
VISION™ provides inspection data analyses and summary reports on a weekly, monthly, quarterly and yearly basis.  All reports are available for output to a local printer or available for export and storage in one or more of the following formats: Comma Separated Values Format (CSV), Text, Microsoft Office 2010 (Word, Excel, PowerPoint, Access), Adobe Acrobat Portable Document Format (PDF), and Hyper Text Markup Language/Extensible Markup Language (HTML/XML).
A Friendly User Interface
Worldwide believes a good and friendly user interface is one that allows users to carry out their intended actions or tasks effectively and efficiently, without distractions or questions as to how to proceed.  Keeping that in mind, Worldwide has designed its user interface for its application as very simple and straight forward, allowing users to successfully perform inspections without hesitation, delay or question without answer.
Worldwide has implemented the following critical design aspects to ensure the most user-friendly design possible for a vehicle inspection application:
Intuitive and Consistent Design
The user interface in Worldwide's application is consistent with the forms and applications found in an inspection environment.  This creates a feeling of familiarity and simplicity for Inspectors, and allows them to more easily begin using the Workstation comfortably without issues.  The software is consistent throughout the different forms and phases of the inspection process, further allowing inspectors to guide easily through a vehicle inspection without any delays or hesitation.
Clarity
Inspectors can easily and clearly operate all functions of the inspection software without any ambiguity over the way the system operates.  Software prompts are described quickly and concisely to users, providing them with the information that is needed in a clear and concise format, which can then be transferred to the motorist.
High Responsivity
The inspection software is supported by high-quality computing components to ensure a highly responsive system at all times.  There is nothing more frustrating than a system which is unresponsive or slow due to software or hardware issues. The new Windows 10 Application provides the highest and fastest response times, which allows users to focus on the important aspects of the vehicle inspection rather than the inspection software's issues.
Maintainability
Worldwide's software is continuously supported throughout the duration of any contract.  Throughout software updates, familiarity and security are maintained so as to not impact the user environment or experience.  If and/or when major changes are implemented that impact the operation of the software, those changes will be communicated to users and prompts will help guide through any impacted changes.
Attractiveness
Worldwide's software provides an aesthetically pleasing environment to perform all of the necessary tasks of a vehicle inspection.  Clear, concise and yet just visually stimulating enough to keep the user's attention focused on the important task at hand, which is providing a high quality level of service for official vehicle inspections across the globe.