Worldwide Environmental awarded sole source contract for vehicle verification program for the State of Jalisco, Mexico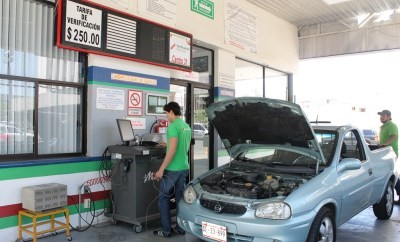 California-based Worldwide Environmental Products, Inc. (Worldwide), a private corporation, has been awarded a contract with SEMADET in the State of Jalisco, Mexico as the new technology and solutions provider for the vehicle emissions and safety verification program in the State of Jalisco.  Services include the design, supply, installation and ongoing maintenance and support of vehicle verification equipment and software, which will be used at verification centers, as well as a data and program management system for SEMADET to ensure program compliance, validity and cost-effectiveness.
 
Worldwide will work with SEMADET as its contractor and new partner to introduce a state-of-the-art vehicle emissions and safety verification system that will provide SEMADET, verification centers and motorists of Jalisco with a cost-effective, modernized solution which has been designed specifically for the benefit and needs of the vehicle verification program in Jalisco. 

Over the coming months, Worldwide will be working with SEMADET to finalize and implement a modern solution based on proven framework which will set the standard for vehicle verification programs in Mexico and Latin America.  Worldwide's President and Chief Executive Officer, Bill Delaney, said: "We could not be more excited to be chosen as SEMADET's new vendor and contractor for the important program in Jalisco.  Being a California based company, we have deep roots and many proud connections with our neighbors in Mexico, and we are excited to bring our technology and experience as we implement and operate a successful vehicle verification program with SEMADET in Jalisco."
Highlights of the solution include Worldwide's High-Speed EIS 5000 emissions analyzer, which has been proven and used as a high-throughput vehicle emissions analyzer in vehicle verification programs around the world for over three decades; as well as VISION™ (Vehicle Inspection Systems Information Online Network), a comprehensive web-based program management system designed and customized for Jalisco, which includes applications and reporting features needed to accurately and effectively manage all program activities.
For over thirty years, Worldwide Environmental Products, Inc. has been a leader in designing and providing innovative, high-quality vehicle emissions and safety inspection solutions.  From highly-rated hardware and software to advanced database applications and hosting, to vehicle diagnostic training and turnkey I/M program management, Worldwide has earned and maintained a strong reputation for its expertise in providing long-term, successful vehicle inspection solutions. 
Worldwide Environmental Products, Inc. (Worldwide), una corporación privada con sede en California, ha recibido un contrato con la Secretaría de Medio Ambiente y Desarrollo Territorial (SEMADET) en el estado de Jalisco, México, como el nuevo proveedor de tecnología y soluciones para el programa de verificación vehicular. Los servicios incluyen el diseño, suministro, instalación y mantenimiento continuo y soporte de equipos y software de verificación de vehículos que se utilizarán en los centros de verificación, así como un sistema de gestión de datos y programas para SEMADET para garantizar el cumplimiento, la validez y la rentabilidad de los programas.
Worldwide trabajará con SEMADET como su contratista y nuevo socio para introducir un sistema de verificación vehicular de última generación que proporcionará a SEMADET, centros de verificación y automovilistas de Jalisco una solución rentable y modernizada que ha sido diseñada específicamente para el beneficio y las necesidades del programa de verificación vehicular en Jalisco.
En los próximos meses, Worldwide trabajará con SEMADET para finalizar e implementar una solución moderna basada en un marco probado que establecerá el estándar para los programas de verificación vehicular en México y América Latina. El presidente y director ejecutivo de Worldwide, Bill Delaney, dijo: "No podríamos estar más emocionados de ser elegidos como el nuevo proveedor y contratista de SEMADET para el importante programa en Jalisco". Al ser una empresa con sede en California, tenemos profundas raíces y muchas conexiones orgullosas con nuestros vecinos en México, y estamos entusiasmados de aportar nuestra tecnología y experiencia a medida que implementamos y operamos un exitoso programa de verificación de vehículos con SEMADET en Jalisco ".
Los aspectos más destacados de la solución incluyen el analizador de emisiones EIS 5000 de alta velocidad de Worldwide, que ha sido probado y utilizado como un analizador de emisiones de vehículos de alto rendimiento en programas de verificación vehicular en todo el mundo durante más de tres décadas; así como VISION ™ (Red en línea de información de sistemas de inspección de vehículos), un sistema integral de administración de programas basado en la web diseñado y personalizado para Jalisco, que incluye aplicaciones y funciones de informes necesarias para administrar de manera precisa y efectiva todas las actividades del programa.
Durante más de treinta años, Worldwide ha sido líder en el diseño y suministro de soluciones innovadoras y de alta calidad para los programas de inspección técnica vehicular y verificación vehicular. Desde hardware y software altamente calificados hasta aplicaciones avanzadas de bases de datos y alojamiento, hasta capacitación en diagnóstico de vehículos y gestión de programas de inspección vehicular llave en mano, Worldwide se ha ganado y ha mantenido una sólida reputación por su experiencia en proporcionar soluciones de inspección de vehículos exitosas a largo plazo.
Within the intentions and work that Worldwide Group expects to carry out in Mexico, we continue to participate in events and spaces to learn about the reality of the different Mexican areas, and of course to present our turnkey solution. The Foro de Proveduría...